Summer brings endless inspiration –– are there projects you have been dreaming of making? Whether you want to decorate your biggest, boldest cake yet, sew a chic new dress or create a beautiful quilt, you'll find exactly the supplies you need when you shop the Craftsy Summer Sale! Discover hot savings on all supplies, and bring your dream project to life!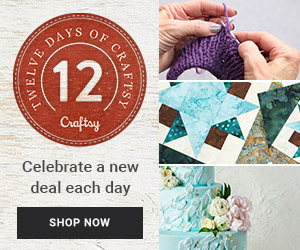 I have to admit, I tend to take on more than I can possibly manage. As my mom always said in relation to food when I was growing up, "my eyes are bigger than my stomach". This also holds true for craft projects! However, the possibilities are endless when looking at crafting with Craftsy. Plus, if there is something you've always wanted to learn, they offer superb online classes that can be taken at your own pace and will never be deleted.
Craftsy Summer Sale
Do you have a passion to learn a new craft, such as knitting, quilting, crochet, sewing, drawing, or painting? Now is a great time to sign-up for a class and take advantage of the Summer Closeout Sale to purchase your supplies.
Perhaps you need to restock your supplies or add onto an existing stock. This sale allows you the opportunity to do that as well! I can't help but ooh and aah over all the fun supplies I could add to my collection. For instance, for my knitting needles I use earplugs as point protectors to prevent my stitches from slipping off. Craftsy has some great point protectors that come in packages of 4 that will be much easier to work with than earplugs!
Take a peek at these supplies for sewing, baking, quilting, and art supplies!
Do you prefer crocheting over knitting? They have a ton of supplies for crocheting too! Grab a beautiful set of brand new crochet hooks.
I love paper crafting! You all know I am a huge fan (and demonstrator) of Stampin' Up products. However, it is always fun try out different products from other brands.
If you are already in a craft that uses yarn, then you will love the selection of yarn at closeout prices!
I am so excited to build up my supply of yarn, as well as fun new tools for knitting and crocheting. Head on over to the Craftsy Summer Sale now while supplies last!
---
Don't miss out on tips and basic rambling from A Mom Having Fun (AMHF)! Subscribe to r