Craftsy extended their Black Friday Sale one more day! Through Monday, December 1st, All Classes $19.99 or less!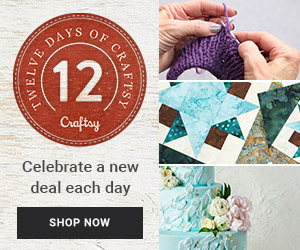 From Friday through Monday, Craftsy is hosting their Black Friday Sale! All Classes $19.99 or less! Now is a great time to get the classes you've been eyeing all year! Craftsy classes also make a great gift, so do some holiday shopping for the crafter in your life.
I love Craftsy classes! I started learning how to crochet and knit a year ago. Here are some of my favorite classes: Knit Lab with Stefanie Japel, Crochet Lab with Vickie Howel, and Knit Lab In The Round with Stefanie Japel. So far, I have knitted 2 scarves, and am working on my third. I have also made fingerless gloves, and a keyhole scarf! There is so much more that I am dying to learn though. I want to learn how to knit cables and sweaters!
Shop now because you won't want to miss these incredible sales!
---
Don't miss out on tips and basic rambling from A Mom Having Fun (AMHF)! Subscribe to receive me in your inbox.