We finally have our son in his own room, in this really cool Safari Jeep bed that was all handmade.  My sister's neighbor was moving and this is a set the dad made when their son, now in his 20's, had when he was a child.  We still have the shelving to hang up and we definitely need new curtains since the ones in there were our daughters.  But in the meantime, we need to get the girl's room painted.  It is still painted for the twins when they were babies so it's yellow and blue with a baby border!
With the two girls now in the same room, we need to figure out a way to make better use of the space.  So, I am starting to look at design ideas for their room.  Our neighbor is in the same boat and they just bought a STUVA system from IKEA.  They are getting rid of their dresser and putting up this unit instead.  I also found a PAX system there which, I think is probably more along the lines as ELFA from The Container Store which we have in our family room.
Here are ideas I am considering for their room:
PAX Ideas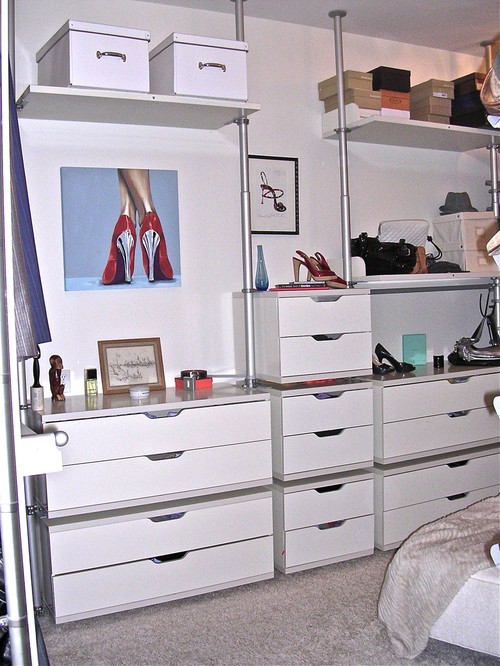 Something like this maybe, with the little desk but the one end being wider with a sliding door to put a wardrobe bar and more shelving in:
STUVA Ideas
I would not get the toy box with these – but I really like the taller storage "frames" with doors.  Then you can design the interior of them with shelves, drawers, and clothes rail!
You can choose a different color if you want or all one color.  I would just do all white since, as the kid's age, they don't want something that looks "cute".  I designed a set for their room – if you go to Ikea's website you can design the set-up you want and then it will price out the pieces for you.  You can then save it and print it out.  I designed with two tall frames with doors, no drawers on the exterior.  Then on the inside two clothes rails, two shelves, and two wire baskets…totaling $258.00.  Not bad!
I think this may be the route we go.  We will probably have to play with the design though since we would need this to also replace their dresser.