This is a sponsored post written by me on behalf of Holmes Products for IZEA. All opinions are 100% mine.
Living in the Midwest during the cold winter months affects us in many ways, other than just being cold! I suffer from extremely dry skin once the cold weather hits, causing my hands to crack and bleed. This is not a pretty sight. Plus, it is really painful. Besides the dry skin, it also affects our sinuses and causes major static electricity in our clothes!
Our whole family has to make sure they remember to slather on the lotion every time we shower. Besides that, we are all consistently putting lotion on our hands. Even with doing all of this, we still experience extremely dry skin. Plus, my kids start getting bloody noses due to the dryness.
Extremely Dry Skin Relief
We do have a humidifier installed with our furnace; however, knowing what the optimal setting is can be a little confusing. It always seems to work the opposite of what I think. This is where the Holmes® Smart Humidifier Console
 would be a huge benefit.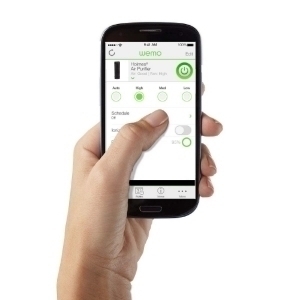 The Holmes Smart Humidifier is not only attractive, but comes with WeMo technology. This technology enables you to control your humidifier settings any time, from anywhere, using your smartphone or tablet. Plus it will notify you when the water is running low, or if the filter needs to a change.
There is one feature in particular that I find very exciting. This humidifier has a smart sensor that monitors the environment inside and outside your home. Based on this sensor, you can choose between 5 comfort levels to give you the optimal comfort indoors.
Some other impressive features are these:
Provides humidity to the entire house, so the whole family stays comfortable during the winter months.
36-hour runtime, so there is no constant refilling of water tanks.
The filter reminder conveniently tells you when to reorder and allows you to purchase immediately through the app.
Being able to have optimal humidity levels inside our house to avoid the dry skin, sinus headaches and bloody noses sounds like it would make our winters much more comfortable. Too bad it can't control our outside weather conditions!
Check out the video below to see WeMo technology in action!
You have got to visit the Holmes website to see all of their other "Smart" products. With WeMo technology, you have to power to control your coffee maker, slow cooker, heater, and more at your fingertips.
I'd love to hear which of the Holmes Smart products with WeMo technology would you be most interested in having in your home?
---
Don't miss out on tips and basic rambling from A Mom Having Fun (AMHF)! Subscribe to receive me in your inbox.