Who is tired of winter already? Me, me me! Even though it is only January, I am yearning for Spring. I bounce back and forth between dressing in my winter wardrobe and throwing in touches of Spring. This week for Fashion Friday, 1/30/15, Cents of Style is celebrating the transitional accessory pieces. You can buy one beautiful, colorful Spring scarf for $11.95, and you will be offered a cozy, black, cable knit, infinity scarf for FREE at checkout. Just use coupon code 2FOR1. Plus, Cents of Style always offers FREE SHIPPING.
There are about 15 different color/styles to choose from in the Spring scarf. Then when you go to checkout, a pop-up will allow you to add one black cable knit infinity scarf for FREE. This is limit one per customer order, and we will only ship one free scarf with each order. If you want to get more than one, place multiple orders. If, for some reason, you are not offered the free scarf pop-up, we will make sure that each Fashion Friday order receives their free scarf. Two scarves for $11.95 or under $6 each piece SHIPPED!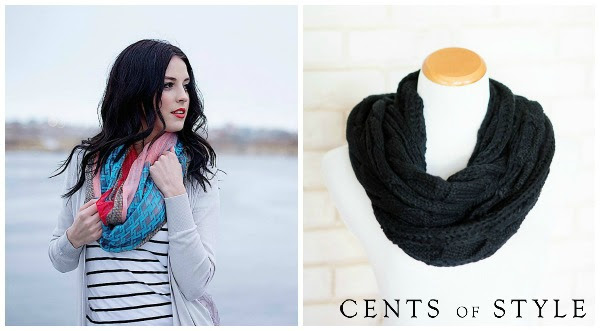 I am so in love with these scarves!! The colors are so beautiful and will coordinate with so many Spring outfits. Heck, I am quite sure I could find a way to sneak in one of these scarves even in the middle of winter! Although, if you prefer to wait for that one day the sun is shining, and it is 50 degrees out, you will have the perfect scarf! However, if the next it is snowy and cold, you have a FREE scarf to keep you warm until Spring is finally here.

I'd love to hear the colors you chose when did your Fashion Friday shopping. Come on back and let me know!
---
Don't miss out on tips and basic rambling from A Mom Having Fun (AMHF)! Subscribe to receive me in your inbox.