This is a Sponsored post written by me on behalf of White Cloud for SocialSpark. All opinions are 100% mine.
We always try to do what we can to be environmentally conscious. We recycle, we compost, and we try to always use products that are non-toxic. Using products that do not contain and toxins helps to keep those toxins out of our environment and off of us. I also have to admit since we have been in a financial crunch we do what we can with our groceries.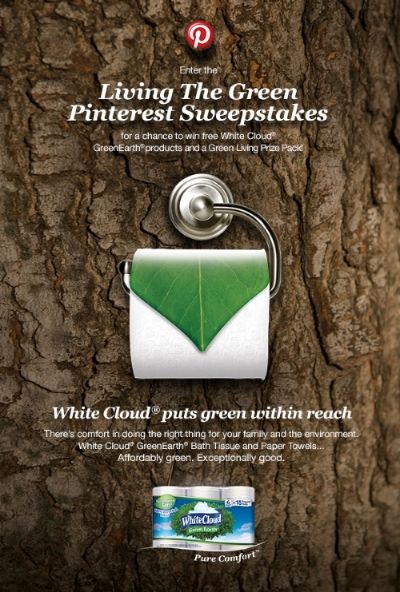 I love doing what I can for the environment and that it always makes me feel so much better. Using White Cloud GreenEarth, an eco-friendly product line sold exclusively at Walmart, is another way I like to be environmentaly responsible. White Cloud is made from 100 percent recycle fibers. The products they offer are bathroom tissue and paper towels. You can see more details on those individual products here: White Cloud GreenEarth products page.
"Living the Green" may seem a little daunting at first, but if you try to take it one step at a time it does not seem so overwhelming. For us it was a natural progression. We had been recycling for years already, but then when our oldest was born we really started to look at the foods we were eating. Since I was making all of her baby food, I wanted to be sure I was providing her with the healthiest of foods. This was when we switched to eating organic fruits and vegetables to avoid the pesticides. At that time we also started buying organic meats and and dairy products to avoid the hormones. It was a couple of years later that I became educated on the ingredients used in our cleaning products, as well as our bath and body products. Last year I started composting, which has been great for our garden!
All of our children are really good about throwing things in the recycling bin or the compostor. Our children get really upset when they see any garbage blowing around outdoors. Megan, our oldest, recently suggested their Junior Girl Scouts troop go the local park to pick up garbage for Earth Day, which is April 22. When we are out and about, we like to pick up garbage that we see lying around. Our daughter likes to chant "reduce, reuse, recycle" from her girl scouts troop while doing this.
I think overall just doing whatever you can is a help. Being able to recycle or even picking up some paper you see on the ground while you are walking makes a huge impact. Also, buying White Products GreenEarth help. They maintain the highest standards of quality while still remaining affordable. There is no compromise with GreenEarth products. In fact, all of their products maintain a Forest Stewardship Council certification.
Right now White Cloud is hosting a "Living the Green" Sweepstakes for a chance to win White Cloud GreenEarth products and a Green Living Package.
It is super east to enter, simply follow the White Cloud Pinterest page. Then you will want to create your own White Cloud "Living the Green" Pinterest board, and repin at least one Pin from the White Cloud "Living the Green" board to their board and include the hashtag #LivingTheGreen in the pin's caption.
There is NO PURCHASE NECESSARY. Ends 4/30/13. Click here for Official Rules. For all the details, go to the Sweepstakes Rules and Regulations page.
What do you do to Live the Green?