This is a Sponsored post written by me on behalf of Texas Pete for SocialSpark. All opinions are 100% mine.
I am a huge fan of spicy foods. However, I have had to taper my love of the spice while the kids were young. Now that they are getting older, I have started introducing more "heat" to their foods. Texas Pete Hot Sauce is one of my favorite ways to adds just the right punch to any meal.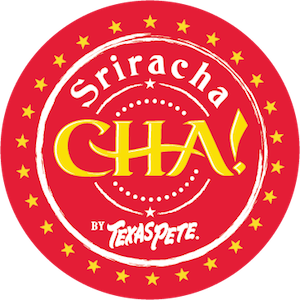 Did you know Texas Pete offers a lot more ways to add some flavor to your meals than with just hot sauce? They also offer Wing Sauces, Hotter Hot Sauce, a Garlic Hot Sauce, CHA! by Texas Pete Sriracha Sauce and a Green Pepper Sauce. Texas Pete can be the secret ingredient you use to make your dishes more memorable, and worthy of passing down! I really need to try out the Garlic Hot Sauce. I think this could easily become the "secret ingredient" to our recipes.
Texas Pete Hot Sauce can be used on just about anything as condiment. It's perfect for adding spice and flavor to hot dogs, fries, pizza, soups and sandwiches but also works well as an ingredient in a variety of dishes from ribs to barbecue to red velvet cake icing?! In fact, I was so intrigued by the thought of hot sauce in Red Velvet, I decided to find the recipe and share it with you.
Red Velvet Cones with Texas Pete® 
YIELD: 48 cake cones
PORTION: 1 cake cone
INGREDIENTS
*** ***Cake Batter
5 cups All purpose flour
3 cups Granulated sugar
1 Tbsp Baking soda
2 tsp Salt, fine
2 tsp Cocoa powder
3 cups Vegetable oil
2 cups Buttermilk: room temperature
4 Large eggs: room temperature
3 Tbsp Red food coloring
2 Tbsp Texas Pete® Original Hot Sauce
2 tsp Vanilla Extract
48 Ice cream cones, small, flat bottomed
*** ***Cream Cheese Icing
36 oz. Cream cheese: softened, whipped
1 stick Unsalted butter: softened, whipped
2 cups Powdered sugar
1/2 tsp Vanilla extract
2 tsp Texas Pete® Hotter Hot Sauce
Piping bag with small decorative tip
Shaker, Powdered sugar, for garnish
DIRECTIONS
1.     Preheat the oven to 350 degrees Fahrenheit.
2.     In a large bowl, sift together the flour, sugar, baking soda, salt and cocoa powder. In another large bowl, whisk together the oil, buttermilk, eggs, food coloring, Texas Pete® Hot
3.     Sauce and vanilla.
4.     Using a standing mixer, mix the dry ingredients into the wet ingredients until just combined and a smooth batter is formed.
5.     Carefully spoon the batter into the ice cream cones filling them 2/3 of the way up to give them room for rising in the oven. Arrange the cones on a parchment-lined sheet tray standing up and place them into the oven to bake at 350 degrees for approximately 15-20 minutes or until they have fully risen and a tooth pick inserted into the center of the cake comes out clean.
6.     Remove the cakes from the oven and let cool completely.
7.     While the cakes are in the oven, prepare the spicy cream cheese frosting.
8.     Place the softened cream cheese and the softened butter into a medium size mixing bowl and whisk together until smooth. Add the powdered sugar and continue to whisk until the mixture is smooth. Add the vanilla extract and the Texas Pete® Hotter Hot Sauce and whisk one more minute. You may add more powdered sugar or Texas Pete® Hotter Hot Sauce so that the icing is to your liking.
9.     Place the spicy cream cheese frosting into a piping bag with a small decorative tip.
10.   Using the tip of the piping bag, carefully puncture a small hole into the center of the top of the red velvet cake and pipe approximately 2-3 tablespoons of the spice cream cheese into the center of the cake allowing some of the cream cheese to come out of the top for decoration.
11.   Continue until all the red velvet cake cones are filled. Use any extra cream cheese icing to frost the tops of the cones.
12.   Sprinkle with powdered sugar and serve.
This sounds divine, doesn't it? For more creative recipe ideas, visit Texas Pete Hot Sauce recipes site. Oh, and when you find those recipes you would like to try out, here is where you can find Texas Pete Hot Sauce!