Have you always wanted to learn in the areas of  knitting, crocheting, or photography? How about gardening, cake decorating, cooking, or baking? Whether you are a novice or an expert at any of these things Craftsy has everything you are looking for in online classes.
Craftsy also happens to be having the sweetest sale for Valentine's Day – up to 50% off on ALL of their online classes!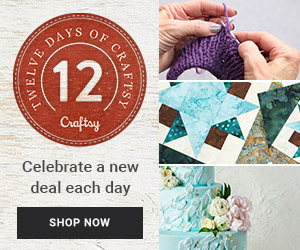 I absolutely love their knitting and crochet classes. I had no idea how to knit or crochet before a year ago, but thanks to Craftsy, have learned some great skills for doing both. Unfortunately this winter has been so busy, I have not had a whole lot of time to do much of any of my needlework. The good thing is that, even though I have bought some classes I have yet to see, they are there for a lifetime. Plus, the classes save where ever I left off!
So, if there is that "thing" you've always wanted to learn how to do, or a skill you've been wanting to improve upon – look into the classes a Craftsy. I promise you won't be disappointed with the classes at Craftsy! Enjoy up to 50% off while it lasts. 🙂
I'd love to hear, what that one "crafty" thing is that you always wanted to learn?
---
Don't miss out on tips and basic rambling from A Mom Having Fun (AMHF)! Subscribe to receive me in your inbox.